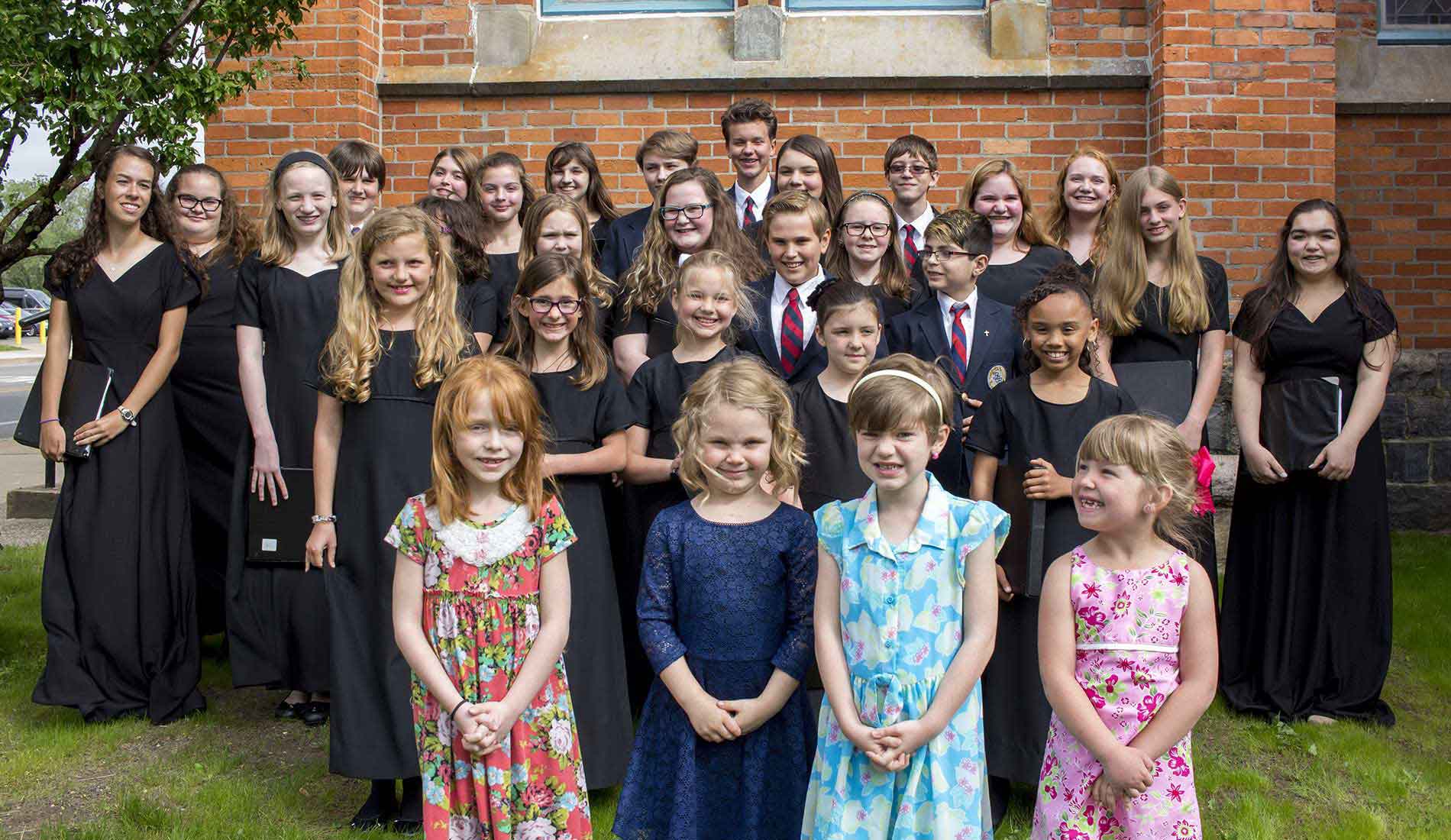 Battle Creek Girls Chorus
Changing lives through music
Find out why generations of young men have joined the Battle Creek Girls Chorus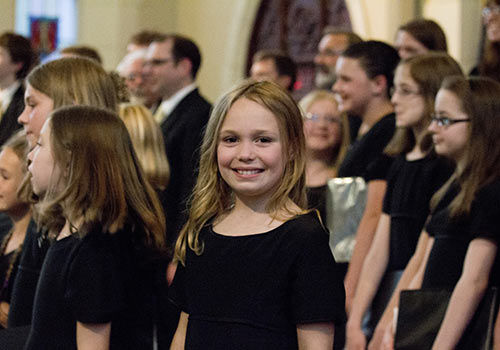 About the Battle Creek Girls Chorus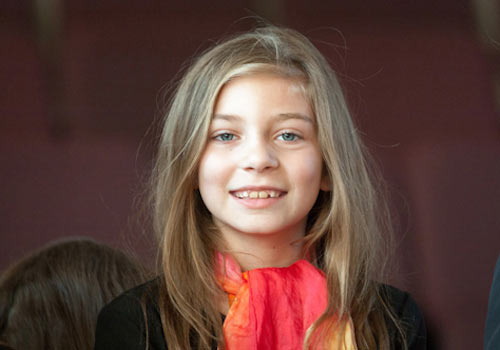 Is Girls Chorus for Me?
Do you like to sing? Do you like to listen to a variety of music? Do you like to meet new people and make new friends? Do you like to go places and see new things? If you answered "yes" to any of the questions above, the Battle Creek Girls Chorus is for you!
The Girls Chorus sings together once a week during the school year and performs at multiple local and regional venues.  Girls ages 5-18 come together from all over the greater Battle Creek region to sing, make friendships, and grow into confident young women.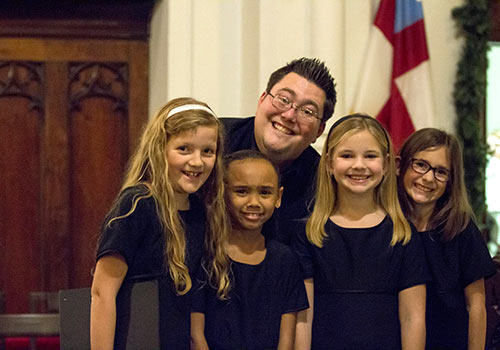 How Do I Join?
Just give us a call at 269.963.1911, option 2 to sign up, or visit us at a rehearsal to learn more about the Girls Chorus. Rehearsals begin in September, and we will be accepting registrations throughout the semester.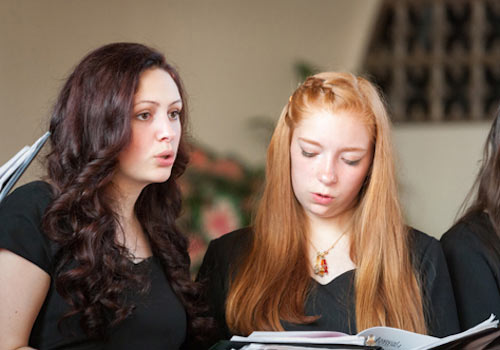 Are Scholarships Available?
Yes! The Music Center Choruses offer generous financial aid to families with less than $60,000 in annual income on a sliding scale. Non-need based scholarships are also available through BCreative for residents of Greater Battle Creek.
Call 269.963.1911
Our folks at The Music Center can get you all of the information you need to get started. Or contact us here.
When are rehearsals?
All rehearsals are on Mondays
Ready, Set, Sing! (boys and girls grades K-2), 4-4:45 pm
Ragazzi (boys and girls grades 3-4), 5-6 pm
Dolce (girls grades 5-8), 5-6:30 pm
Amabile (girls grades 9-12), 7:30-9 pm
How Much Does it Cost?
Tuition varies per ensemble. Generous financial aid and scholarships are also available.
Tuition can be paid in advance or monthly through direct draw.
Sounds Great! Sign me up
Contact us for more information, or come to rehearsal on Monday night.
Call 269.963.1911 or contact us to sign up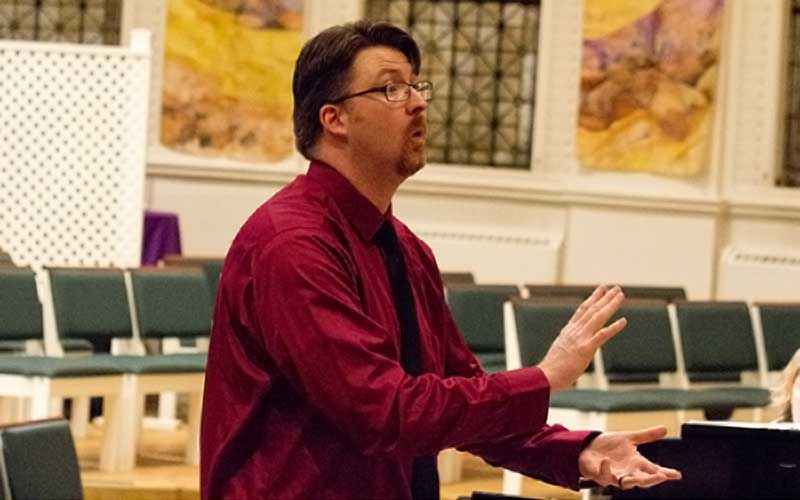 Ian Bäby (pronounced "Bobby") has been teaching music at Marshall Public Schools since 1999. In his time at Marshall, he has taught various grade levels and ensembles and is currently the Director of Marshall Middle School Choirs. In his current position with the Marshall Public Schools, Ian grew his choirs from 8 students to a class average of 40 students, 30% of whom are boys. Ian holds a double Bachelors in Music Education and Vocal Performance from Miami University (Oxford, Ohio) and a Masters of Music Education from Western Michigan University, with an emphasis in the female changing voice. Ian sings with the Battle Creek Community Chorus and the Michigan Educator's Male Ensemble, a professional vocal ensemble, and is the founding director of the Marshall Summer Community Chorus with the Music Center's Community Music School.
Ian has come highly recommended by respected educators and members of our community. He received high ratings from the Boychoir and Girls Chorus parents who were able to meet with him at his audition. He brings passion, energy and a commitment to musical excellence to the position, and I am confident that he will be a wonderful addition to our musical family. Ian lives in Battle Creek with his wife, Sara, and when not making music, he enjoys re-creating the arts and skills of medieval Europe.
"This is an exciting time for everyone! For me, it is a chance to work with ensembles with a great history of music. I am looking forward to continuing a great musical tradition as we work together this year." - Ian Bäby
Justin Budzynski is the new Assistant Director of the Battle Creek Boychoir and Girls Chorus and teaches voice and guitar lessons at the Music Center of South Central Michigan. Additionally, he serves as the Treble Chorister Assistant, as well as a Choral Scholar at St. Thomas Episcopal Church. Mr. Budzynski holds a Bachelor of Music Degree in Choral Music Education from Western Michigan University and has previously he held positions with the YMCA of Kalamazoo and Grand Rapids. In his spare time, he enjoys disc golfing, swimming, and other outdoor activites. Justin directs the Ragazzi and Ready, Set, Sing! ensembles as well as assisting with all of the Boychoir and Girls Chorus ensembles.
Justin Budzynski, Assistant Director