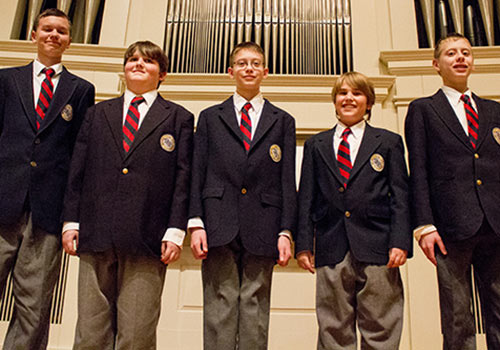 Music Makes A Difference 
Without a doubt, the Battle Creek Boychoir, or BCB, has played an instrumental and vital part of my life, and I would not be where I am today if it were not for my years in the Battle Creek Boychoir.
For several  wonderful and life changing years, I had the great honor to be a member of BCB, from 1980-1984.  During this time, I not only developed a deep knowledge and appreciation of music, but I also learned a great many life skills, as well; life skills that I would later use in life, and still do to this day in all that I do.
To be sure, I would not have the life I do today if it were not for the Battle Creek Boychoir.  Indeed, singing has become a staple of my life, and allowed me to travel the world, performing in the international super group Up With People.  The musical lessons and knowledge were vital to my year, as I performed and sang in front of thousands around the globe. Along with that, the musical skills I learned in BCB also gave me access to musical scholarships while in college.  If it were not for my time in BCB, I would not have had that experience with Up With People, and would not have met my Australian born wife, who also performed and toured the same year I did.  If not for the BCB, there would be no Up With People Everyday Hero award, no Good Morning America Ultimate Hero Award, and none of the other awards my wife and I have been honored with.  There would be no books written, no foster or adoptive children (50 plus) living in my home.
Lessons of team work, responsibility, accountability, timeliness, organization, the long hours of practice and honing our skills,  and other life skills I learned from my time in BCB also prepared me to become a foster parent, and leading international expert in that field.  Indeed, as I continue to travel the nation and globe, working with child welfare agencies, I often rely upon those life skills I learned from BCB.
There is a wonderful poem by Robert Frost titled The Road Not Taken.  I often reflect upon that poem, and realize that the road I took with the Battle Creek Boychoir set in place so much of my life. If I did not take that road, my life would be drastically different.  Let there be no mistake; the BCB prepared me for the life I now live, and the many adventures that have arisen due to it.
It is my hope and desire that boys in the great city of Battle Creek continue to learn from the Battle Creek Boychoir, continue to experience this wonderful gift of music, and continue to have their lives forever changed for the better, like it has my own.
John DeGarmo, Ed.D.
The Foster Care Institute
WHY SUBSCRIBE?