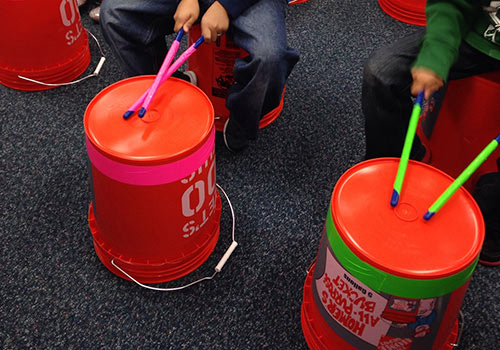 How bucket drumming came about is not clear.  However, street musicians have been using whatever they could find to make music.  Who would have thought that drumming on a bucket could sound so good?  In this class you will learn basic beats and rhythms.  There is no right or wrong way to do it.  Spontaneous music is made when people come together.  We provide the buckets - you provide the beats.
Bucket Beats
Day/Time: Contact us for details:
Location:  The Music Center
Registration Fee $10.00
Class Fee $11/session
Age of Student:  Age 8 and up
· We provide the instruments.
· You do not need to be able to read music.
· This is great for stress relief.
· The best reason, this class is a lot of fun.
Check out the videos on our facebook page!
Community Music School offers financial aid to families with less than $60,000 in annual income on a sliding scale.
For more information, call 269.963.1911 ext. 2589
Call 269.963.1911 or contact us to sign up