Battle Creek Symphony
May 1, 2021, 7:30 pm
Virtual concert
Johannes Brahms paints a delightful musical portrait of the countryside in his "mini-symphony," the Serenade No. 1. We open the evening with George Walker's gorgeous and moving Lyric for Strings, written in honor of his grandmother. Snuggle up on the couch with the Battle Creek Symphony for an evening filled with lighthearted and soulful music.
George Walker  Lyric for Strings
Johannes Brahms  Serenade No. 1
This performance will be presented on the Battle Creek Symphony's Virtual Stage.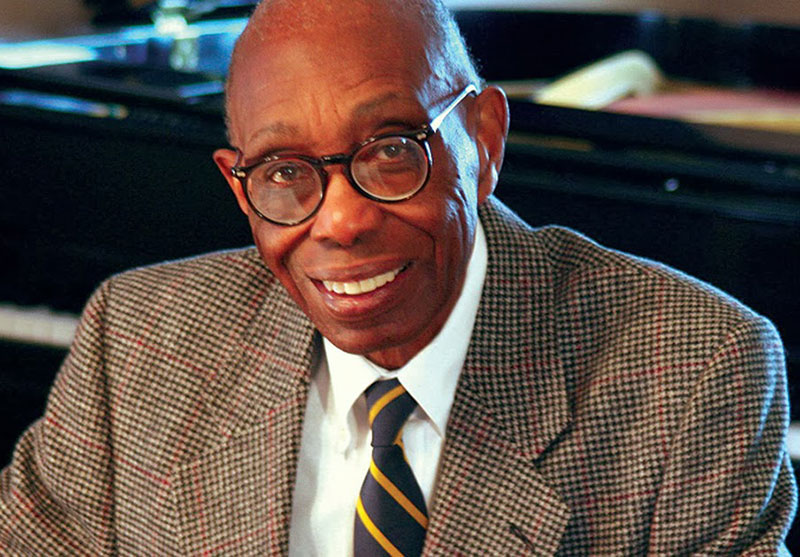 PROGRAM NOTES
Lyric for Strings
George Walker (1922-2018)
George Walker was the first African American composer to win a Pulitzer Prize for Music. He has received multiple awards and honorary doctorates, and has published over 90 works. The New York Philharmonic, Boston Symphony, Cleveland Orchestra, Philadelphia Orchestra, and many other ensembles have commissioned his pieces. Walker's music is influenced by various styles, including classical, jazz, folk songs, and church hymns. His short piece Lyric for Strings is his most performed orchestral work.
Walker composed Lyric for Strings, originally titled Lament, in 1946 while he was a student at the Curtis Institute of Music. It was written after the death of his grandmother, to whom the piece is dedicated. The focus is on the expressive quality of the orchestral strings. The work begins in a subdued mood before the first violins introduce a central theme. This theme is then transformed and grows until it reaches a peak that showcases the full emotion of the strings. The piece once again ends in a somber tone, which brings it full circle.
Serenade No. 1 in D Major, Op. 11
Johannes Brahms (1833-1897)
German composer Johannes Brahms wrote two orchestral serenades in his lifetime, which he composed before his four monumental symphonies. Brahms was known for being a perfectionist, as it would take him fourteen years for him to finish his first symphony.  Both serenades were early efforts for Brahms to compose orchestral music.
The Serenade No. 1 in D Major premiered in 1860 and was published in the same year, making it Brahms' first major orchestral work. Unlike a standard symphony, which has three or four movements, this serenade has six shorter movements. The first movement is an exuberant Allegro molto, and the bucolic drone tones call forth images of the countryside. This is in contrast to the second movement, a more subdued scherzo that alternates with a trio. The third movement, a pastoral Adagio, is the emotional core of the work and features the flutes. A lively pair of minuets follow, which alternate between the woodwinds and the strings. The fourth movement, like the second, is another scherzo, and focuses the horns. The final movement is a sprightly Rondo that engages the entire orchestra. Throughout the movements, the dancelike moods imitate the spirit of the countryside.
Originally, the work had only four movements, and was scored for a much smaller group of nine woodwind and string players. It was Brahms' friends, pianist Clara Schumann and violinist Joseph Joachim, who encouraged him to rewrite the work for a larger ensemble that included brass, timpani, and a greater number of woodwinds. Joachim conducted the premiere, while Clara Schumann promoted the piece in Vienna.
At the time, the Serenade was on the cutting-edge of modernism. Though the work is not designated as a symphony, it is often treated as such, and has been enjoyed by audiences around the world ever since its premiere. It demonstrates Brahms' mastery as an orchestral composer, as it paved the way for him to later create his four symphonies.
Program notes by Sophie Petroski
Simply fill out this form to get a link to Battle Creek Symphony Virtual Concert Hall performances. List the concerts you would like or write "all." You'll receive an email with the link and instructions one week prior to each concert. Please check your spam or junk folder if you do not receive the link or call us at 269.963.1911.
WE APOLOGIZE FOR THOSE WHO ARE HAVING DIFFICULTY WITH THE FORM.  WE ARE WORKING TO IDENTIFY THE ISSUE.  IF YOU HAVE AN ISSUE, PLEASE EMAIL US AT FINANCE@YOURMUSICCENTER.ORG AND WE WILL SET YOU UP WITH TICKETS!
CORONAVIRUS UPDATE (COVID-19)
Thank you for your patience as we navigate the pandemic and find solutions to keep everyone as safe as possible.
While our building is closed to the public, staff is working hard to bring you lessons, concerts, and classes through virtual options. Please visit our various program pages often for details and updates. Also, follow us on Facebook for the latest news.
Help us build community through music