Battle Creek Symphony Auditions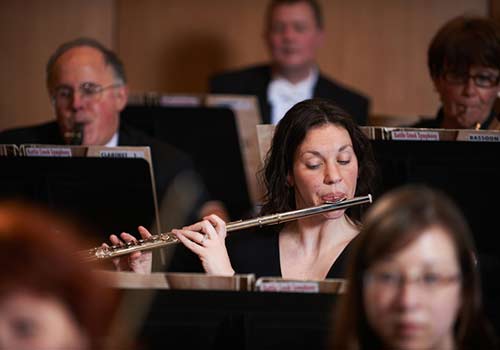 THE BATTLE CREEK SYMPHONY
ANNOUNCES THE FOLLOWING AUDITIONS FOR THE 2019-20 SEASON:
Assistant Concertmaster: Sunday, September 29, 2019
(finalists may be offered section positions and/or Principal Second Violin)

Principal Second Violin: Sunday, September 29, 2019
(finalists may be offered section positions)
Assistant Principal Viola: Sunday, September 29, 2019
(finalists may be offered section positions)

Section Violin, Viola, and Bass: Sunday, September 29, 2019
Principal Oboe: Sunday, October 6, 2019
Principal Clarinet: Sunday, October 6, 2019
All auditions will be held at The Music Center on the campus of Kellogg Community College in Battle Creek, Michigan

For more information, excerpt packet, or to apply submit resume to
Operations Manager
(269) 963-1911 x 2503 operations@yourmusiccenter.org
Battle Creek Symphony 2019-2020 dates:
October 5 - Falla Three Cornered Hat, Marquez Danzon #2, Ginastera Estancia, Piazzolla and traditional tango
November 9 - Broadway pops
December 14 - Gospel Christmas
February 25 - Tchaikovsky Violin Concerto and The Planets
May 2 - Rachmaninoff Piano Concerto No. 3, Brahms Symphony No. 2

Auditions take place throughout the year, based on need. Check this page for updates, or contact the Operations and Personnel Manager for openings and more information. Per service rates are $86 for principal and assistant concertmaster and $76 for section for 2.5-hour rehearsals except for school concerts and outreaches. Mileage is reimbursed at $.28 per mile per trip to begin after the first 15 miles round trip, up to $35 for round trips less than 300 miles, and up to $80 for round trips greater than 300 miles. Up to one round trip per day is reimbursed. The maximum mileage reimbursed per concert cycle is $160. Musicians requesting homestays are reimbursed for one round trip.

The Music Center is committed to diversity and engages in a policy of equal employment opportunity designed to promote a positive model of inclusion. As such, The Music Center encourages performers of all ethnicities, gender identities, and ages, as well as performers with disabilities, to attend every audition.
Candidates must be authorized to work in the United States.
Battle Creek Symphony
Operations Manager and Education Outreach Coordinator
Interested in a fast-paced exciting position in the music arts? The Battle Creek Symphony is seeking a part-time Operations Manager and Education Outreach Coordinator. The successful candidate will be responsible for the smooth execution of Battle Creek Symphony concerts and events including the supervision of all symphony technical personnel and orchestra personnel duties. Attention to detail is a must. Ability to work with little supervision, a high degree of reliability, capacity to multi-task and meet strict deadlines, and ability to function well under pressure are of utmost importance for this position.
This rewarding position requires a minimum of a Bachelor's Degree in Music, Arts Administration, or equivalent, along with 1 – 3 years' experience in orchestra operations including technical requirements for concert production and budget management. The Operations Manager will also need knowledge of symphonic music, proficiency in Microsoft Word and Excel, strong organizational skills with meticulous attention to detail, and excellent communication skills--both verbal and written.
Hours and compensation are 20/hours per week (except for concert weeks) at $14/hour.  Additional hours at $16/hour are available for educational outreaches.
This is an excellent position for those seeking a full-time career in Arts Administration.  Previous Operations Managers are now holding leadership positions with the Grand Rapids Symphony, Cincinnati Orchestra, and Philadelphia Orchestra, among others.
If you are qualified, please send a cover letter, resume and references to operations@yourmusiccenter.org.  No phone calls, please.
For more information about The Music Center (parent organization of the Battle Creek Symphony) or the orchestra itself, please visit BattleCreekSymphony.org.