Anne Harrigan, Artistic Director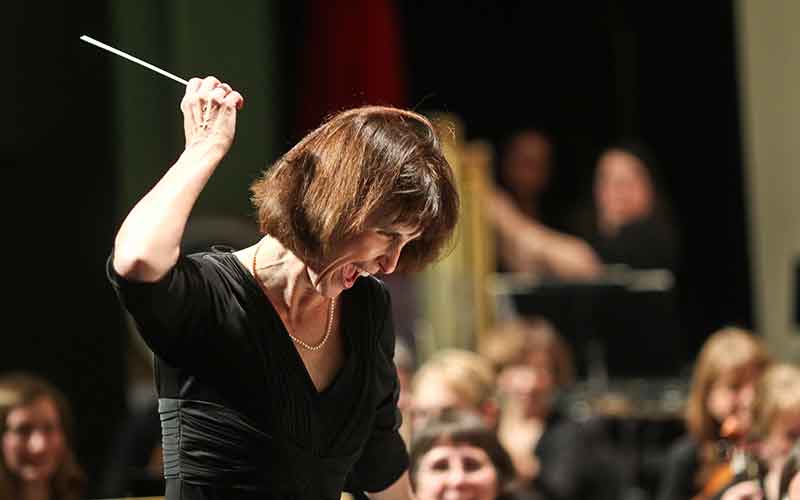 Anne Harrigan, Music Director of the Battle Creek Symphony Orchestra and Artistic Director of the Music Center of South Central Michigan, has earned a reputation throughout the country for her innovative programming, commitment to artistic excellence and community engagement.
Recent guest conducting engagements have included the Richmond, Annapolis, Arlington, Lansing, and Honolulu Symphony Orchestras, the Indianapolis and Missouri Chamber Orchestras, the Naples Philharmonic and cover conducting for the Indianapolis Symphony Orchestra. She has performed with exceptional artists such as Leon Fleisher, Lynn Harrell, Alisa Weilerstein and Janos Starker.
She assumed the position of Music Director of the Battle Creek Symphony in December, 2002. Projects at the Battle Creek Symphony have included the 75th Anniversary Celebration of the WK Kellogg Foundation, a national commission through Continental Harmony celebrating the diversity of Battle Creek, and participation in the $5M renovation of the WK Kellogg Auditorium.
Her commitment to innovation in programming has resulted in groundbreaking multi-disciplinary programs that have attracted national attention. These include the United States premiere of Shaun Davey's "A Brendan Voyage", a concerto for uilleann pipes and orchestra with the renowned piper Christopher Layer; collaborations with Alexander Streltsov, aerialist, silent movies with live orchestra, live video projections of performances, and Peter Boyer's "Ellis Island: Dream of America – a chronicle of the journey of seven immigrants through Ellis Island.
Ms. Harrigan also serves as Music Director of the Billings Symphony Orchestra and Chorale.