Anne Harrigan, Artistic Director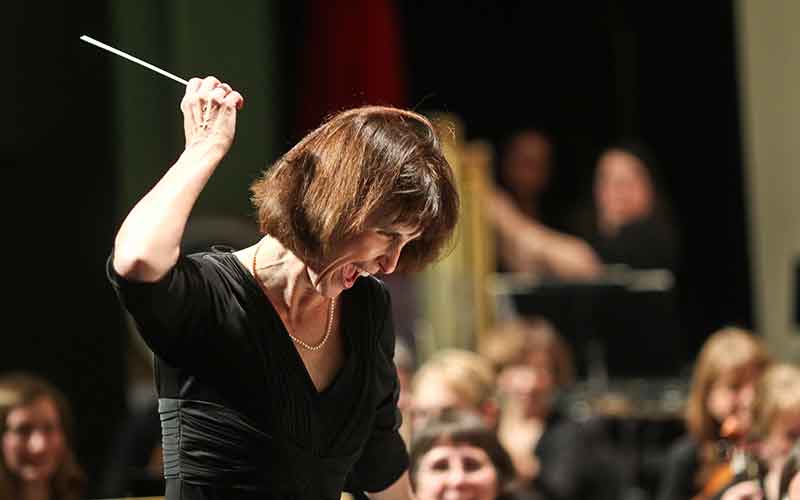 Entering her 20th year as Music Director, Anne Harrigan has been the Battle Creek Symphony's Maestra since 2003. Driven to deliver transformative musical experiences to her audience, she consistently brings passion and eloquence to the arts in Michigan. Her vision for the community extends past the concert hall and she has developed innovative programs which have garnered national attention.
These include the U.S. premiere of Shaun Davey's A Brendan Voyage, a concerto for uilleann (Irish) pipes and orchestra; an exceptional version of Guys and Dolls with an almost all POC (people of color) lead cast; collaborations with late Montana photographer, Michael Sample; the world premiere of Buffalo Crossing—a Northern Cheyenne Story, featuring 14 guest artists from Indian Nations; and the world premiere of Hold On, America, Hold On, a concert featuring five narrators with orchestra presenting testimonies by Black Americans throughout history. Ms. Harrigan is an innovator in the DEI (diversity, equity, and inclusion) movement with a personal goal of normalizing diversity wherever she can influence the lives of those around her.
Her musical career began at age 19, when she founded the Johns Hopkins University Chamber Orchestra while still a violin student at the Peabody Institute of Music. She received her master's in conducting at Yale University under the tutelage of Otto Werner Mueller. In 1983, Ms. Harrigan formed the Baltimore Chamber Orchestra and developed it from a fledgling organization to one of the finest chamber orchestras in the country.
Ms. Harrigan also conducts the Billings Symphony and has held posts as Music Director of the  Lafayette Symphony Orchestra (1994-2005).
Recent guest conducting engagements have included the Richmond, Annapolis, Arlington, Lansing, and Honolulu Symphony Orchestras, the Indianapolis and Missouri Chamber Orchestras, the Naples Philharmonic and cover conducting for the Indianapolis Symphony Orchestra. She has performed with exceptional artists such as Leon Fleisher, Lynn Harrell, Alisa Weilerstein and Janos Starker.
In her free time, Ms. Harrigan enjoys bicycling, Irish traditional music, and aerial silks. She lives with her husband Eric, and dogs Sammy & Rory and is the proud mother of daughter Erin.