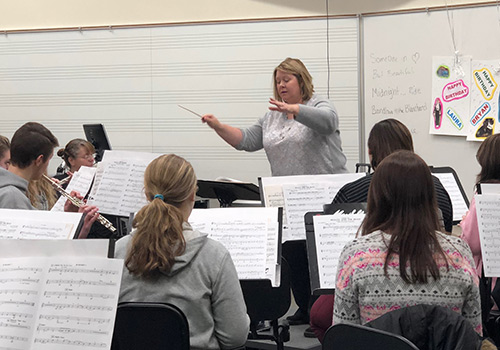 Laura
Bandlow
Concert Band
Laura holds a Bachelor of Arts in music and is currently pursuing a masters degree in conducting, both from Western Michigan University. Laura directed the middle and high school bands for Battle Creek Area Catholic Schools for several years. She is adjunct faculty at Kellogg Community College and has performed as clarinetist with pit orchestras and bands throughout the area.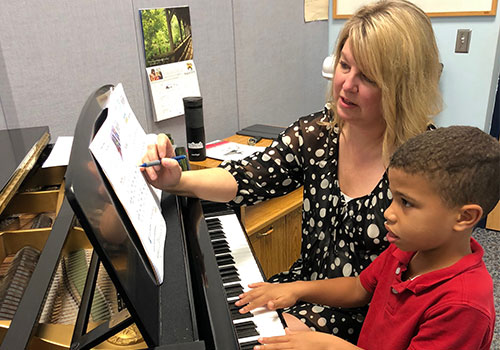 Melissa
Baxter
piano
Melissa Baxter (piano) graduated from Western Michigan University with a Bachelors in Elementary Education and a minor in Music and is currently working on a Bachelors in Music Education. When teaching she stresses the fundamentals using method books, but often supplements with games and technology. She teaches classical music, but also explores other genres, teaching ear training and the use of lead sheets. She teaches at Purdy Elementary and plays with the Post Band.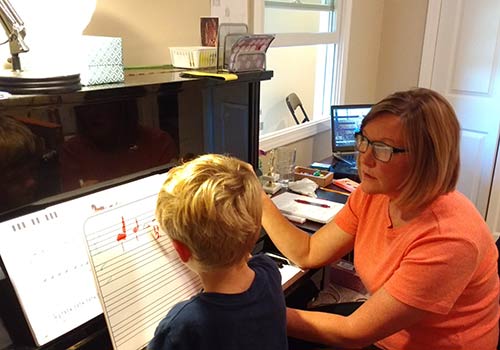 Holly
Bolthouse
piano
Holly Bolthouse is a beloved teacher of 30+ years, now residing in the Sturgis/Battle Creek area. Originally from Hastings, Michigan, she received her initial piano education from former BCAMTA members Kate (Kathryn) Mix and Freddy Kruko-Kietzmann, both of Hastings. She also studied with Daniel Longhin, adjunct professor at Cornerstone University, and Suzuki Teacher Trainer, Renee Robbins of Ann Arbor. In addition to her own private studio, Holly has been teaching at the Music Center of South Central Michigan since 2003. Holly teaches students of all ages, but her specialty is early childhood music education. She is both Musikgarten certified and Suzuki trained. In 2017 she completed an additional elementary teaching program with the Royal Conservatory of Music and serves as accompanist for the Battle Creek Boychoir and Battle Creek Girls Chorus.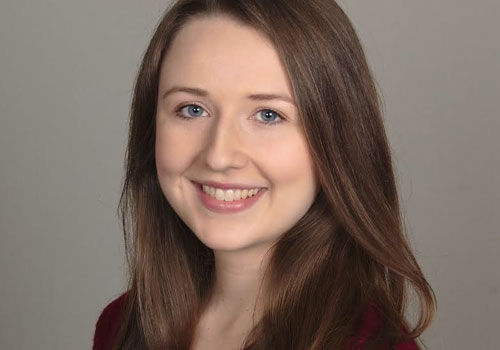 Sarah
Bortz
Flute/Piano
Sarah Bortz comes to us from Kalamazoo. Ms. Bortz teaches Flute and Piano, but she also plays the Piccolo and Ukulele and is a graduate of Western Michigan University with a Bachelors in Instrumental Performance. Ms. Bortz has not only danced in the Russian Moscow Ballet's production of "The Nutcracker" but this versatile artist also played principal flute for the same performance. Ms. Bortz teaching style is creative but with a purpose.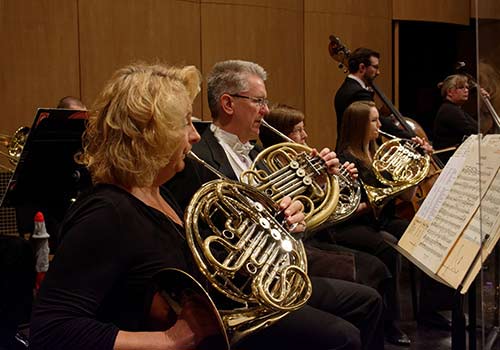 Janet
Channells
Horn
Janet Channells (French horn) Graduated from Western Michigan University, has been with us since 1996. Previously was a travel agent for 20 years. Janet now plays for the Battle Creek Symphony, Kalamazoo Concert Band as well as teaching at The Music Center. When teaching she believes that each lesson should be stimulating and informational. She values practice, commitment and working hard to achieve a mutual respect between student and teacher. Janet has played with many famous artists including Glen Campbell, Rita, Moreno, Vanessa Williams and Tony Bennett. Sign up for lessons TODAY with this talented instructor!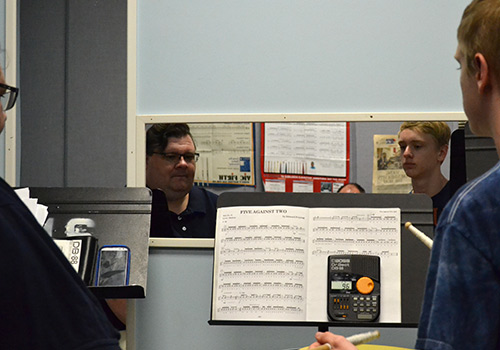 Dennis
Downing
percussion
Dennis Downing has a Bachelor of Arts Degree in Psychology from Michigan State University. He is currently completing his Master's degree in Occupational Therapy at Western Michigan University. He has been drumline instructor for Maple Valley High School in Vermontville and Lakewood High School in Lake Odessa. He has performed in over 30 pit orchestras for musical theatre productions in the community. His interests include computers and exploring how music can help in the world of medicine.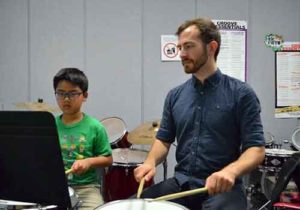 Jeff
Hale
percussion
Jeff Hale (percussion) holds a Bachelor of Music in Contemporary Writing and Production from Berklee College of Music in Boston, MA. Jeff is a professional drummer as well as composer and arranger. He specializes in private drum set instruction with and without written music; classical and rudimental etudes, ensemble performance, double bass drum techniques, correct technique to avoid injury, and overall focus on a rewarding experience with the drum set. Jeff works with musicians of any age, experience, and skill level.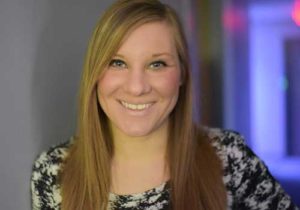 Teri
Noaeill
Music First
Teri holds a Bachelor of Science in Education with a major in elementary education from Western Michigan University. She is also certified as a Highly Qualified Early Childhood Specialist. She has taught at Arbor Academy and Riverside Elementary School. Teri was a member of the Bronco Marching Band while at WMU, and has coached at summer camps and for Girls on the Run.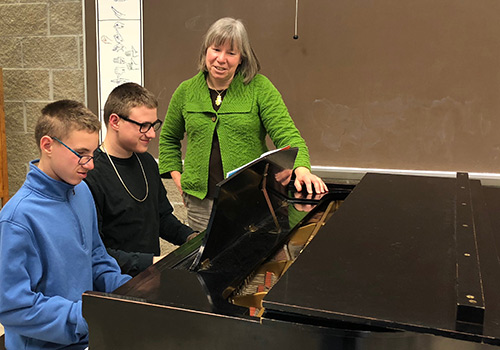 Cindy
Rose
piano
Cindy holds a Bachelor of Science in Agricultural Engineering from Michigan State University and has done graduate work in linguistics at the University of Texas. She is church pianist at Cornerstone Community Church in Battle Creek, and has taught English in China. Cindy studied with Winnifred Sherburn in East Lansing and Dr. William Phemister at Wheaton College.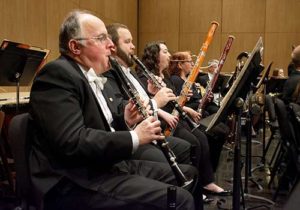 Craig
Suhusky
clarinet, saxophone
Craig holds a Bachelor of Music in music education from Western Michigan University, and a Master of Music in clarinet performance from Michigan State University. He has been a member of the Battle Creek Symphony since 1980. Craig has extensive chamber music and music theater orchestra experience, and has played saxophone in Phoenix Big Band.
Ed
Swarthout
guitar, bass guitar
Ed received musical training at Hannibal School of Music and studied with John Ruthere at State University of New York at New Paltz. He performed for ten years with Reflection, a band based in Syracuse, New York. Ed has performed in Kellogg Community College and Civic Theater productions, and currently performs with Sweet Geek, along with fellow Community Music School faculty, and Pirates and Wenches, a Renaissance band. He enjoys and performs a variety of music including rock, jazz, and blues.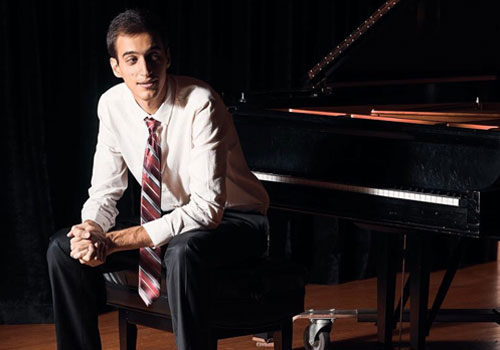 Tahmoures
Tabatabaei
Piano
Tahmoures received his Bachelor's Degree from the University of Tehran where he performed in many recitals and participated in domestic and international music festivals. He won first prize in piano performance in the Ninth Youth Music Festival in Iran, taught music in three academies, and had a private studio as well. Tahmoures moved to the U.S. in 2017 and completed his Master's Degree in Piano Performance at Western Michigan University. He was a graduate teaching assistant at WMU and taught private students in Michigan. Mr. Tabatabaei has a flexible teaching method that works for every individual, "I believe everyone can learn music and it is fun!" Sign up today with this fantastic advanced instructor!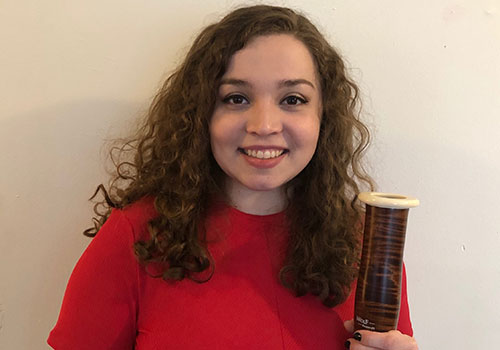 Ashley
Watkins
bassoon
Ashley Watkins (bassoon) is a bassoonist and plays the flute and oboe as well. She has earned her Bachelor's Degree in Bassoon Performance from Southeast Missouri State University, and is currently in her first year bassoon GA at Western Michigan University. When teaching, Ms. Watkins focuses on nurturing and emphasis on the fundamentals. She is a part of the Western Michigan University Graduate Woodwind Quintet. She loves video games, pizza and her cat, Prentiss. Call today to sign up with this wonderful instructor!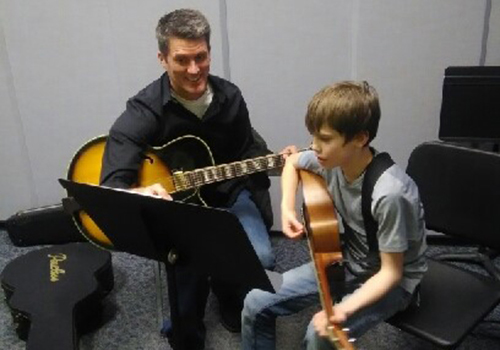 Allen
Zobian
Guitar and Ukulele
Allen Zobian (guitar and ukulele) received a professional certification in jazz guitar and a masters certification in guitar from the Berklee College of Music in Boston. The goal of Allen's teaching is to partner with the student to develop their musical knowledge, aural skills, and technical playing ability through individualized and graded study. As the student gains proficiency, more difficult repertoire and studies are introduced to ensure continuous growth. He strives to ensure each student is empowered to identify and achieve their own unique musical goals and artistic vision.
Contact us to join or study with one of our faculty