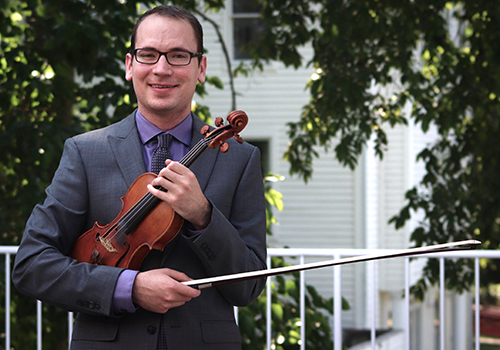 Timothy
Cuffman
Violin/Viola
Timothy Cuffman earned a Doctorate of Musical Arts in violin performance and pedagogy with a secondary area in viola from the University of Iowa. He also holds Master of Music degrees in violin performance and upper string pedagogy from Ohio University and a Bachelor of Music in violin performance from the University of Akron. He has taught in schools across the United States, including the Crescendo Fine Arts Academy in Longmont, Colorado. Timothy has an accomplished career outside of the classroom, performing in several orchestras. Timothy is committed to his students' enjoyment of music and flexible to their goals while establishing a foundation for their growth as violinists.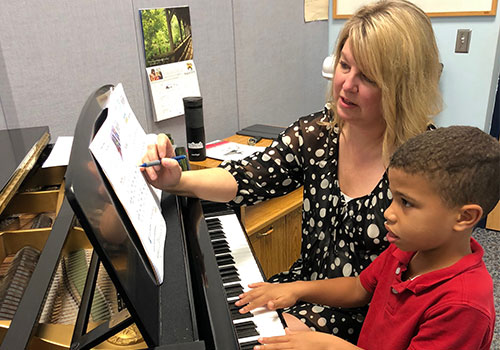 Melissa
Baxter
piano
Melissa Baxter (piano) graduated from Western Michigan University with a Bachelors in Elementary Education and a minor in Music and is currently working on a Bachelors in Music Education. When teaching she stresses the fundamentals using method books, but often supplements with games and technology. She teaches classical music, but also explores other genres, teaching ear training and the use of lead sheets. She teaches at Purdy Elementary and plays with the Post Band.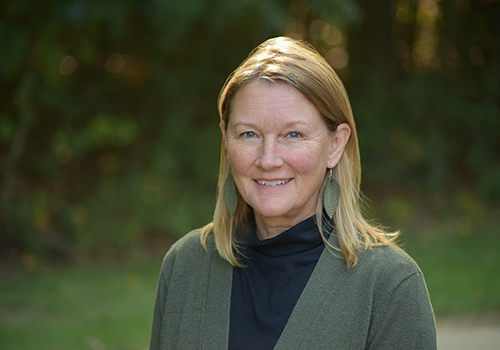 Holly
Bolthouse
piano
Holly Bolthouse studied with Nancy Erickson, Kathryn Mix, and Daniel Longhin and received musical training from Kellogg Community College and Aquinas College. She has accompanied soloists and church choirs, as well as the Battle Creek Boychoir and Battle Creek Girls Chorus. She was also a member of the Battle Creek Area Music Teachers Association. Holly is particularly skilled at motivating young children through her practical teaching style. Holly loves to make the learning process a game because students enjoy meeting their goals and earning rewards. Her teaching style includes learning through note reading and aurally taught pieces.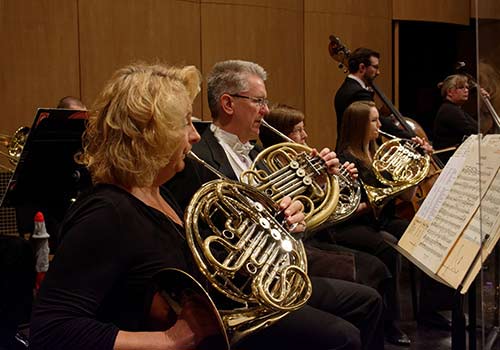 Janet
Channells
Horn
Janet Channells plays for the Battle Creek Symphony and Kalamazoo Concert Band. She attended Western Michigan University and studied under renowned horn player, Neill Saunders. Janet has been with the Community Music School since 1995. She has also played with many famous artists, including Glen Campbell, Rita Moreno, Vanessa Williams, and Tony Bennett. Janet feels that each lesson should be stimulating and informational. She finds value in practice, commitment, and working hard to achieve mutual respect between student and teacher.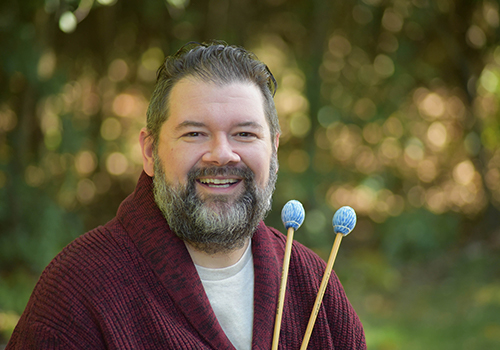 Dennis
Downing
percussion
Dennis Downing holds a bachelor of arts in psychology from Michigan State University, and a master's in occupational therapy. He trained in percussion with the Lansing Community College Percussion Ensemble, the Kellogg Community College music program, and the famed Phantom Regiment Training Camp. He currently performs with the Thornapple Jazz Orchestra. Dennis has a passion of connecting his interests of community, health, and music together. He strives to provide his students with challenges based on their abilities and interests.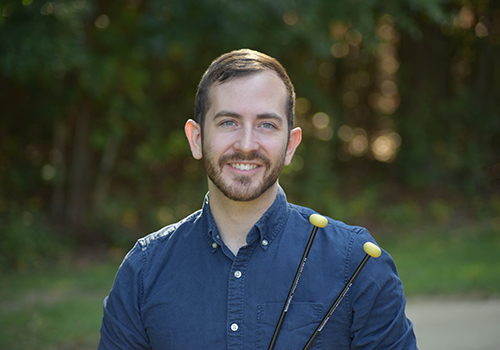 Jeff
Hale
percussion
Jeff Hale holds a Bachelor of Arts in Contemporary Writing and Production from Berklee College of Music with a minor in conducting. Jeff has been an instructor with CMS since 2016 and actually started as a student back from 1999-2007. In fact, he is able to teach in the same room on the same drum kit that he learned with his former instructor, Mr. Dowdy. His love for the drum kit started in 1998 at a concert where he was able to see a Christian rock band (Newsboys) do some cool tricks on their kits. He was hooked! Hale has had many opportunities to utilize his talents in the community and as a career. He has played on the big stages with his band, opening for idols of different genres- Norah Jones, Yngwie Walmsteen, Sepultura, and others. Hale has many talents and specializes in private drum set instruction with and without written music; classical and rudimental etudes, ensemble performances, double bass drum techniques, correct technique to avoid injury, and overall focuses on a rewarding experience. Jeff is currently a professional drummer, composer, and arranger and believes in helping his students achieve their challenges to help them build upon their successes.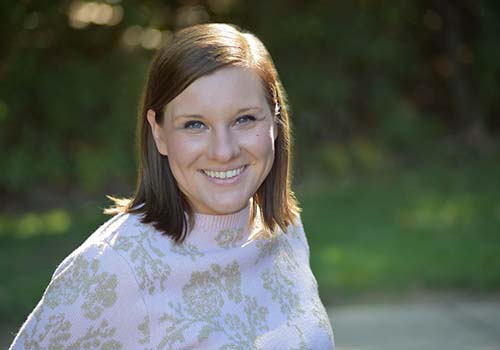 Teri
Noaeill
Community Music School Artistic Director/Music First Instructor
Teri is a former educator in the Battle Creek area and serves as Artistic Director for the Community Music School. She has been with CMS since 2014 as an instructor for Music First; a class designed to teach Early Childhood Music via Gordon Music Theory. In the new position as Artistic Director, Teri oversees the structure and organization of one-on-one instruction and faculty. She collaborates and networks in the community to provide musical programming to public schools and local organizations. In addition to this position, Teri is also the Executive Director for What A Do Theatre Company and is a Teaching Artist for Disney Musicals in Schools through Wharton Institute of Arts and Creativity. Teri is passionate and active about bringing the arts alive in her community and continually seeks opportunities for professional growth in the industry.
Cindy
Rose
piano
Cindy Rose holds a Bachelor of Science from Michigan State University and has done graduate work in linguistics at the University of Texas. She studied with Winnifred Sherburn in East Lansing and Dr. William Phemister at Wheaton College. Cindy is a church pianist at Cornerstone Community Church in Battle Creek and the Kalamazoo Children's Chorus Treble Choir. Cindy's teaching philosophy includes meeting students where they are at with their skills with building the foundations of music and enabling them to bring beauty into the world.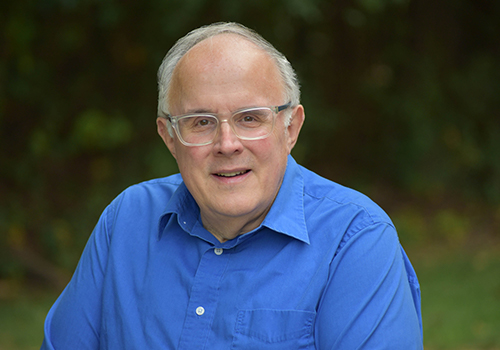 Craig
Suhusky
clarinet, saxophone
Craig Suhusky holds a Bachelor of Music Education from Western Michigan University and a Master of Music from Michigan State University. He has performed extensively with chamber groups, pit orchestras, and symphony orchestras. He currently performs with the Battle Creek Symphony and is adjunct faculty at Olivet College. Craig has also maintained his own private teaching studio since 1981 and has taught students throughout the Southern Michigan area. In addition to his successful musician career, Craig has also served as a band director in the public schools at one time. He believes in teaching to specific need of each student to create success.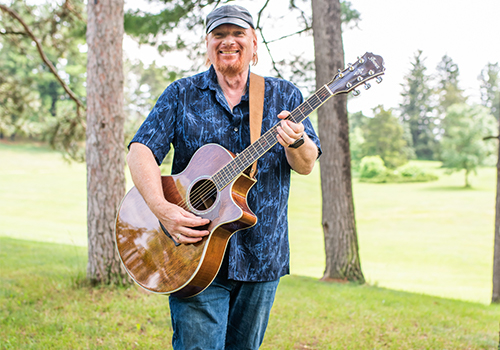 Ed
Swarthout
guitar, bass guitar
Ed Swarthout studied at the Hannibal School of Music and the State University of New York at New Paltz. He played professionally with Reflection out in Syracuse, New York, and now plays with Pirates and Wenches, a Renaissance folk-rock band (in which he is the founder and songwriter for). Ed comes from a family of musicians and teaches many string instruments, including guitar, bass guitar, ukulele, mandolin, and banjo. He likes to emphasize having fun with his students using different instruments and methods depending on students.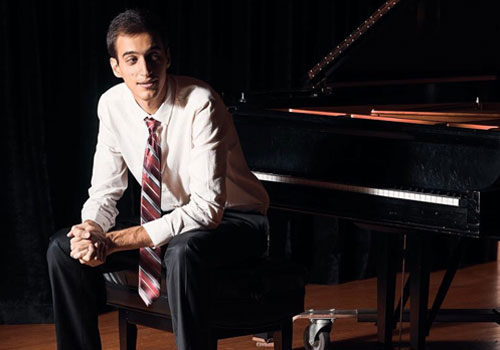 Tahmoures
Tabatabaei
Piano
Tahmoures received his bachelor's from the University of Tehran, where he performed in many recitals and participated in domestic and international music festivals. He won first prize in piano performance in the ninth Youth Music Festival in Iran, taught at three academies, and had a private studio. He completed his master's in piano performance at Western Michigan University. Tahmoures became the music school's first entirely virtual instructor. He now teaches from sunny North Carolina. Tahmoures believes in using a flexible teaching style based off individual needs. He believes that everyone is capable of learning music and having fun! (VIRTUAL LESSONS ONLY)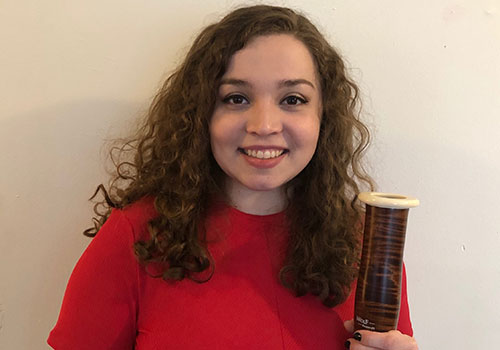 Ashley
Watkins
bassoon
Ashley Watkins earned her bachelor's in bassoon performance from Southeast Missouri State University and is currently in her first-year bassoon GA at Western Michigan University. She is a part of the Western Michigan University Graduate Woodwind Quintet. Ashley likes to focus on nurturing and emphasizing the fundamentals with her students. (VIRTUAL LESSONS ONLY)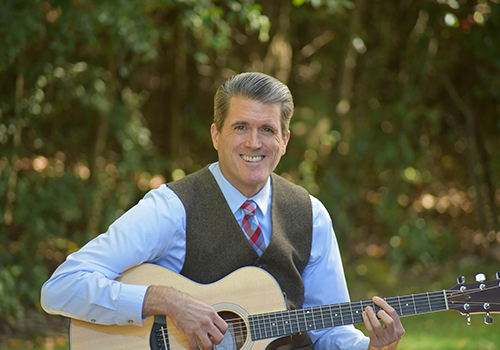 Allen
Zobian
Guitar and Ukulele
Allen Zobian received a master's certification in guitar and a professional certificate in jazz guitar from the Berklee College of Music in Boston. His primary focus is on electric and acoustic lead and rhythm guitar playing within the traditions of jazz, blues, pop, rock, and country using different playing techniques. Allen likes partnering with his students to develop their knowledge, aural skills, and technical abilities through individual study.
Contact us to join or study with one of our faculty