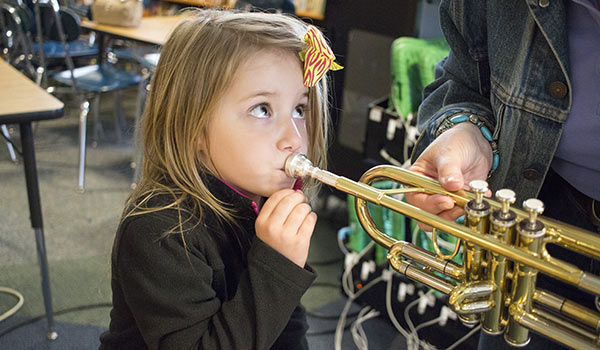 Each year, the Battle Creek Symphony performs free educational concerts for students ranging from kindergarten through 12th grade. The Battle Creek Symphony is committed to reach as many students as possible, so the Symphony assists the schools in applying for bus funding. Symphony programs have included school-oriented performances of opera, symphonic classics, and multi-discipline programs to fit into schools' everyday curriculum. In addition, teaching materials are made available in advance of the concerts. These materials are designed to prepare students and teachers for the concert experience as well as the repertoire and musical concepts covered in each program.
Next year's concert will take place on Friday, February 26, 2021 and will feature Peter and the Wolf. If you are interested in your school attending future concerts, please contact us or call Battle Creek Symphony Operations at 269.963.1911, ext. 2503.
This past season the Music Center presented over seventy outreach activities to area schools, including Ars Voce vocal quartet performances, Brass Trio performances, guest artist performances and clinics, and instrument petting zoos.  Adventures in Music is part of our commitment to building community through music.  Through our engagement activities we help to light the spark of creativity that could change a child's life.
If you are interested in having a Music Center outreach in your school, or if you are interested in helping to make these outreaches possible, please contact us at 269.963.1911 ext. 2503.
Thank you to Meyer Music and Shar Music for help with our petting zoo!