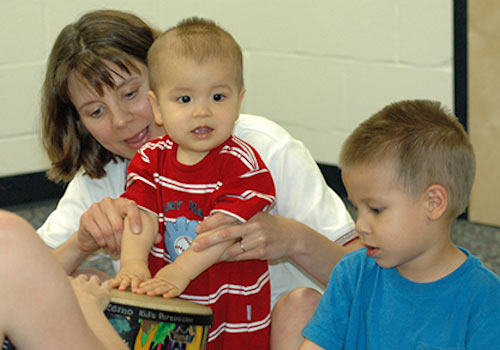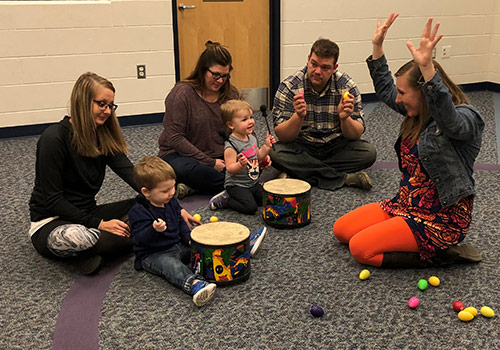 We offer a variety of opportunities to practice the art of music in a group providing fun for everyone. Call for details on the latest class offerings and times.
Music First!
Ages 0-4
Did you know, when babies are born they possess the highest musical aptitude they will ever have? Early music exposure will prepare your baby or child for later musical development. Our Music First program is based on the Gordon Music Learning Theory. You and your child will sing, chant, move, dance, listen, and play simple instruments during these weekly classes, building a solid foundation for later music. Various times, locations, and days are offered for your convenience.
Music Second!
Ages 5-7
Ready for the next step? Introducing Music Second, a NEW group class which is the continuation of Music First and is also based on the Gordon Music Learning Theory. Music Second consists of warm ups, breathing, focus, games, core music, and quick transitions to keep your child engaged. It is designed to provide a bridge into more advanced music education for your little ones.
Drumstix
Ages 7-10
This is a great starter class to learn basic skills. You are provided drum sticks and a drum pad.
Savvy Summer Singers
Ages 8-18
Summer choir program for boys and girls ages 8-18. Kids learn about reading, analyzing, and performing music. Fun repertoire includes music from early chant-type music to modern day pop music. Program finishes off with a fun concert!
Bucket Beats
Ages 14 through adult
It's simple; a bucket and drumsticks. Learn the basic skills for drumming and have tons of fun doing so! Students learn how to read rhythms, interpret various themes, and play as a group, and improvise.
World Drumming
Ages 14 through adult
Relieve a little stress from the day-to-day playing these wonderful drums. We also have other instruments, like Shekere and Gankogui to make different sounds.
Concert Band
Ages 15 through adult
Enjoy performing with a band. Play the classics as well as popular contemporary pieces. No audition required. Rehearsals take place Tuesday evenings in the Kellogg Community College band room. Several concerts take place each year.
Call 269.963.1911 or contact us to sign up