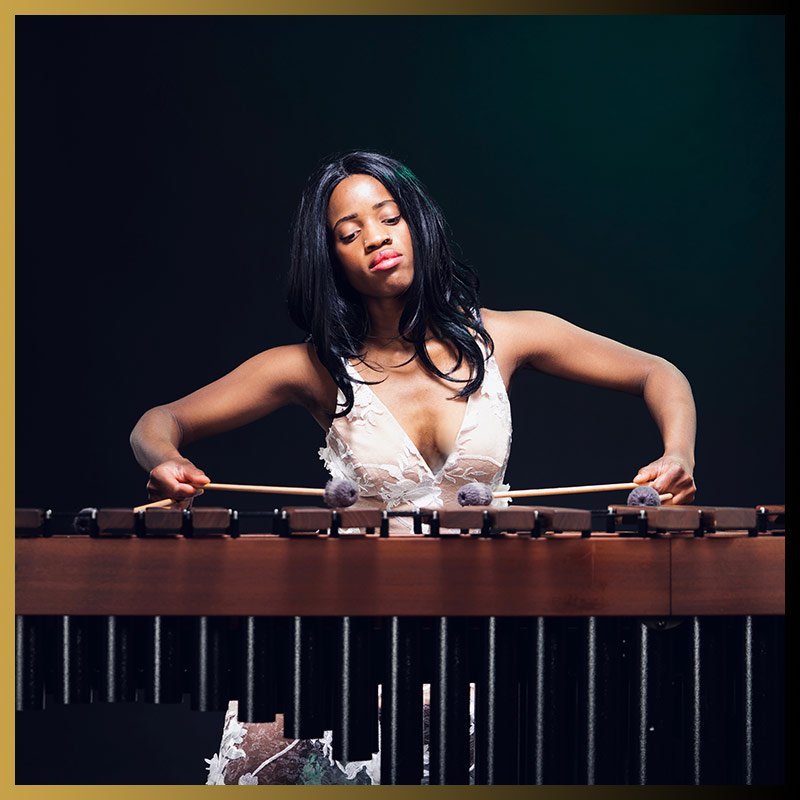 Symphony 2: The Glory & The Grandeur
Symphony 2: The Glory & The Grandeur
Saturday, November 4, 2023, 7:30 pm
WK Kellogg Auditorium
Briton-Renee Collins, percussion
Andrew Fritz, percussion
David Hall, percussion
Bask in this high-energy show featuring three percussion soloists, 100+ of their favorite instruments, Ravel's brilliant La Valse, and Copland's beloved Fanfare for the Common Man.
"Fanfare for the Common Man" premiered March 12, 1943, in observance of income tax time - something every "common man" has to endure.
You'll want to practice not blinking so you don't miss a second of the percussive pyrotechniques of our—not one, not two, but three—soloists in Russell Peck's The Glory and the Grandeur. The spectacle is a good example of why classical music is best experienced live!
Written in 1919, some biographers have speculated that Ravel may have subconsciously processed his feelings about war as he wrote La Valse. Later, he wrote a piano concerto specifically for an artist who lost his right hand in WWI.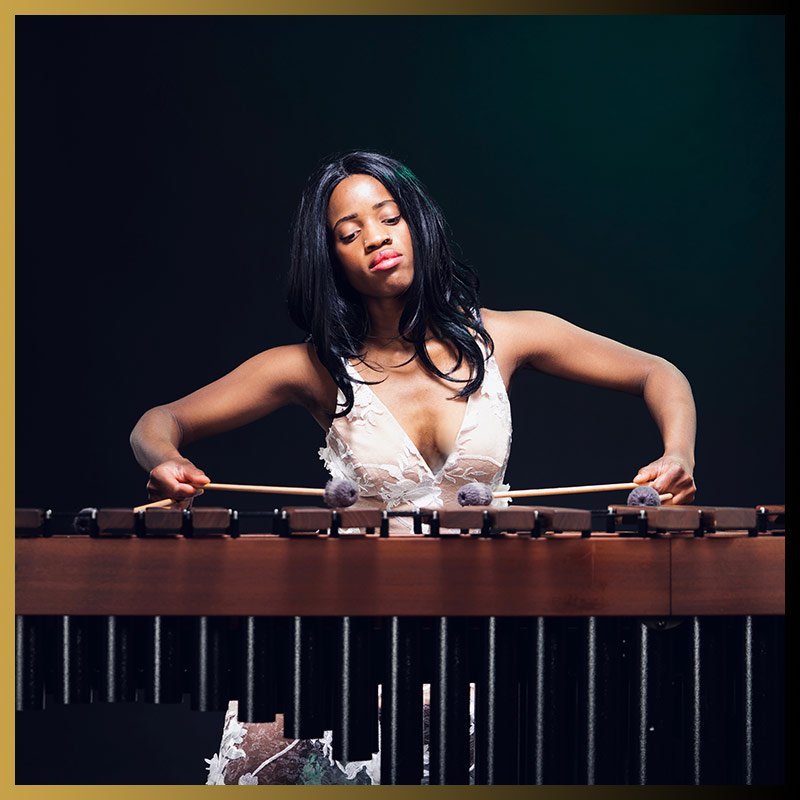 Meet the Artists
Britton-René Collins
Hailed as an "Astounding Virtuoso" and "Exhilarating" performer, percussionist Britton-René Collins is a winner of the 2020 Concert Artists Guild Victor Elmaleh Competition, receiving the Ambassador Prize for exceptional musicianship and demonstrating an active passion for creating social change through her music.
A Grand Prize winner of the 2022 Yamaha Young Performing Artists Competition and the 2021 Chicago International Music Competition, Britton-René has performed as a soloist and chamber musician in the United States, Canada, and Europe. She has performed with several orchestras including the Grammy Award-winning Orpheus Chamber Orchestra, the Rogue Valley Symphony Orchestra, the Meridian Symphony Orchestra, and the Valdosta Symphony Orchestra. Her 2023-24 season includes performances alongside the Western Piedmont Symphony, the Albany Symphony Orchestra (GA), the Marquette Symphony Orchestra, Orchestra Iowa, the Battle Creek Symphony, and the Saint Paul Civic Symphony. In addition to her active solo career, Britton-René enjoys life as a chamber musician with New York City-based Excelsis Percussion Quartet. She is also the co-founder of Vision Duo alongside violinist Ariel Horowitz. As an advocate for new music, Britton-René's current projects involve generating new solo and chamber works for multi-percussion and marimba.
Born in the United States, Britton-René began playing the piano at age five. She discovered percussion at eight years old when she became intrigued by the drum set. She quickly fell in love with playing rock, jazz, and pop music on the drum set, which ignited her enthusiasm to explore various percussion instruments and styles of music. She received her B.M. at the University of Toronto with Aiyun Huang, Beverley Johnston, and John Rudolph, where she won the University of Toronto Symphony Orchestra Concerto Competition and performed the Canadian premiere of Sergei Golovko's first marimba concerto alongside Maestro Uri Mayer and the UTSO. She is currently pursuing her M.M. at the University of Michigan. Her primary instructors include Doug Perkins and Ian Antonio.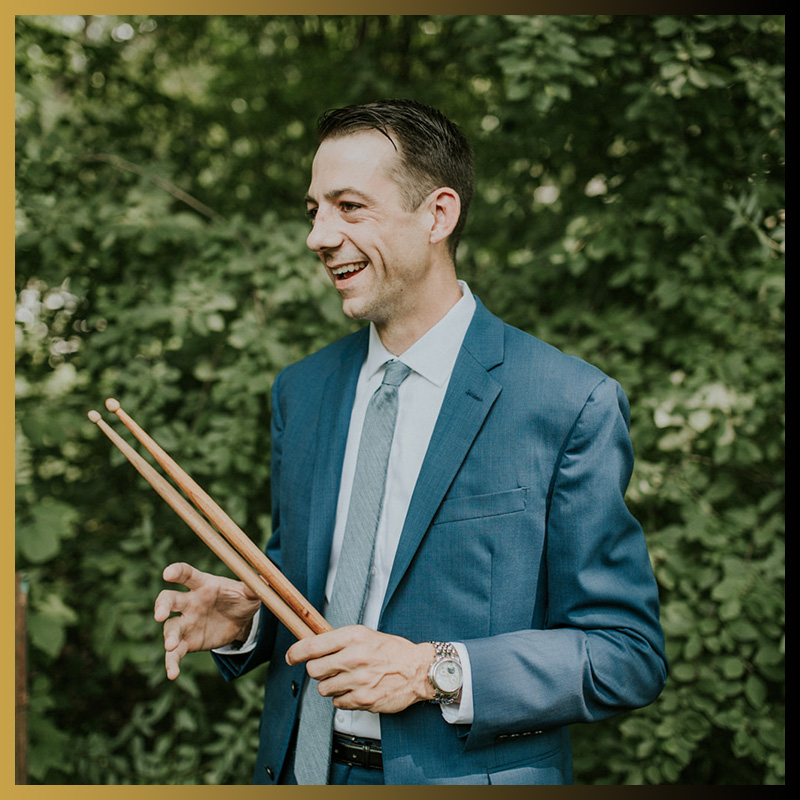 Andrew Fritz
Andrew Fritz is a Timpanist, Percussionist and Music Educator based in Grand Rapids, Michigan. He has been Principal Timpanist with the Battle Creek Symphony since 2014. In addition to Battle Creek, he also holds positions with the Lansing Symphony and the Ann Arbor Symphony.  Andrew frequently performs with the Grand Rapids Symphony, including Carnegie Hall in 2018.  As an educator, Andrew has held teaching appointments at Aquinas College, Hope College, and Cornerstone University, both as an applied instructor and as a lecturer in percussion methods.  He received an Artist Diploma as a student of Ed Harrison and Vadim Karpinos at Roosevelt University. Andrew also holds a M.M. from the University of Missouri-Kansas City and a B.M. from Webster University.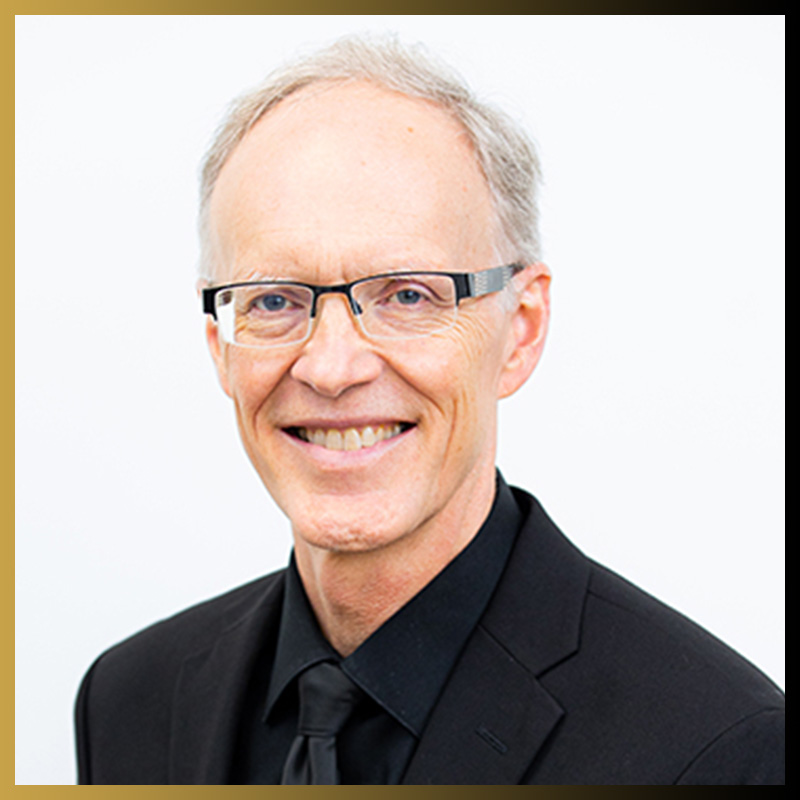 David Hall
David Hall - Assistant Principal Percussionist and Assistant Principal Timpanist with the Grand Rapids Symphony since 1987, David has been "delighting audiences with his virtuosity and musical sensitivity" for years with his many recitals throughout the Midwest, Concertos with the Grand Rapids Symphony and other West Michigan Arts organizations including Battle Creek Symphony in the mid 1990's. David has served on the music faculty of both Central Michigan University and Michigan State University. He received degrees from Ithaca College, NY and the Eastman School of Music. His CD Saudação! is one of the more popular recordings of standard marimba literature to this day. Additionally, Mr. Hall has presented his school assembly program, Marimbamania!, to thousands of students across Michigan and the Midwest.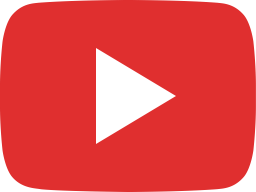 Copland: Fanfare for the Common Man - BBC Proms 2012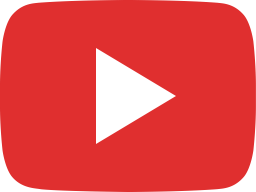 Grazyna Bacewicz (1909-1969) : Overture for orchestra (1943)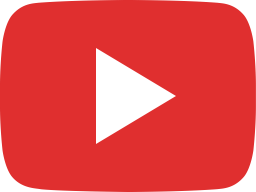 Gustavo Dudamel - LA Phil SOUND/STAGE: Mahler, Adagietto from Symphony No. 5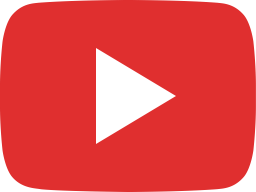 Russell Peck:The Glory and the Grandeur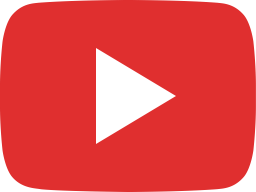 Ravel: La valse ∙ hr-Sinfonieorchester ∙ Jean-Christophe Spinosi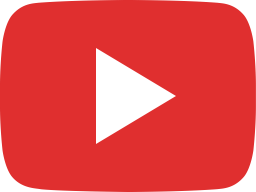 Sibelius: Symphony No. 2 – IV. Finale – London Philharmonic Orchestra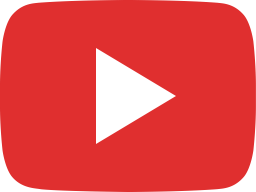 Grażyna Bacewicz - Overture
We'd Love to hear from you!
CORONAVIRUS UPDATE (COVID-19)
The Music Center is currently open and resuming all activities. We take the safety of our students and staff very seriously and follow the CDC and State of Michigan safety guidelines. While we understand some may wish to adhere to their own interpretation of protocols, you will be required you to comply with safety postings in our building in order to participate in our classes and lessons.
Help us build community through music