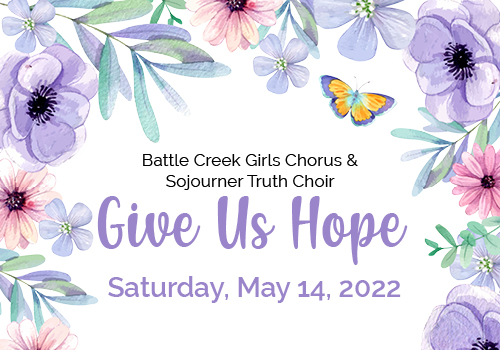 Give Us Hope: A Choral Concert
Saturday, May 14, 2022, 3:00 PM
The Music Center, located on Kellogg Community College Campus,
in the Davidson Building, 450 North Ave, Battle Creek, MI
Battle Creek Girls Chorus and Sojourner Truth Choir
Join us for our FREE concert. Our choirs are excited to be back together again for a wonderful spring event. Bring your friends and family for an afternoon of uplifting and bright music!
Read More
December 18, 2021, 3:00 pm
First Congregational Church, 145 Capital Ave NE, Battle Creek
Join the Battle Creek Community Chorus, Battle Creek Girls Chorus, and Sojourner Truth Choir as they present an evening of music to celebrate this special time of year!
Read More